If you are looking for a messenger bag deal, you may want to take a look of this one. Now you can get this well-designed and high quality Victorinox Nth shoulder bag at $15.93 (two colors are available: red/black, spruce/black). It is a cheap price, isn't it?
This bag features many pockets for your gears such as sunglass and MP3 player or ipod. The main compartment, secured by a waterproof zipper, is expandable if you desire to add more capacity. This shoulder bag also comes with two mesh side pockets, which can be used to holding umbrella or water bottle. This decent Victorinox Shoulder Bag is regularly priced at $50. Now it is on sale at $19.93 at REIoutlet.com. And what makes it even better deal is that REI is running a promotion and giving 20% off on a single item order (The promotion will be expired on June 11, 2009). So here is the math: $19.93X(100%-20%)=$15.93 But remember you may need to pay local sales tax. You can save shipping by choosing in-store pickup. Otherwise the shipping starts at $5.99.
If you use online shopping programs such as Mrrebates, you probably can save another 3% off your purchase at www.REIoutlet.com.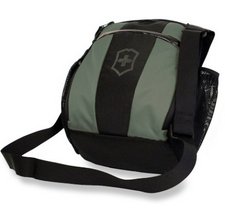 Remember the 20% off discount will be automatically applied when you add item into your shopping cart, and you don't need to type in any code. And also this 20% off coupon is only good for a single item but can be redeemed repetitively. So if you need more than one item and want to get the discount (20% off) for all of them, you just need to make several single item orders seperately.