Check out these www.skinit.com coupon codes to save money when you buy skins for your phone, laptop, ipod or gaming device at the Skinit online store.
This Skinit coupon: BACK2COOL can get you a 20% off discount on any order (Expiration date: Aug. 17, 2010).
Another 20% off Any Order Skinit.com coupon code: GAMEDAY expires on Aug. 24, 2010.
"SUMMERFUN" is a Skinit.com promo code which can save you $5 on any order. This coupon code is valid thru Sept. 30, 2010.
If you are looking for a Skinit free shipping code, don't miss this one: TWLT3. This code can get you a Buy 2 Get $5 off discount plus free shipping at skinit.com.
The other way to get free shipping at www.skinit.com is to place orders of $40 or more.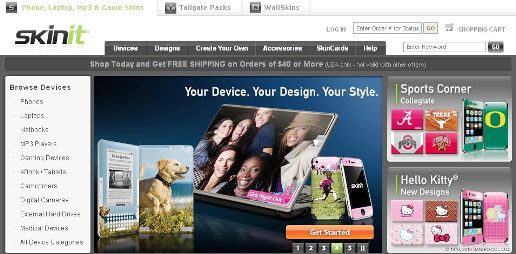 www.skinit.com review
Skinit is an online store selling skins for small portable devices such as cell phones, laptops, PSPs, iPods and so on. If you want to skin your devices and personalize them, you should stop by the Skinit online shop.
Skinit provides a large selection of skins. Almost all the electronic devices available on the market can be skinned. Before I visited skinit.com, I did not even realized that camcorders, external hard drives and medical devices can be skinned.
Shopping for skins at this site is easy. You can browse their products by your device model or skin designs. To make sure the skin you buy will fit your device perfectly, you have to choose your device first. It is common sense that the skin of an ipod will not fit your netbook.
At this website, you can buy pre-designed skins or you can create your own. For instance, you can upload your family or friends photo to their site and make it into a laptop skin.
You may wonder why you want to skin your devices. The simple answer is to have some fun. These skins may protect your brand new iphone, ipod or camcorder from scratches. But more importantly, they give your ipod and ipad a distinctive and personal look and feel. Everyone else is carrying the standard black and shiny Ipad, but you can be the owner of an Ipad with a bright floral design, or any other color scheme or design you want, limited only by your imagination. So If you want to get a personalized skin for your electronic device, you should visit Skinit.com