Find the BOGO FREE Happy Hour Appetizer and $7 off $25 Elephant Bar restaurant printable coupons here.
Here are two Elephant Bar coupons which may help you save some money dining at their restaurants. If you need to find an ElephantBar location in your area, you should visit www.Elephantbar.com, the official website for ElephantBar restaurants.
The first coupon is redeemable for a FREE Happy Hour Appetizer when you buy another one at the bar in the participating Elephant Bar restaurants. This elephant bar printable coupon expires on Aug. 31, 2010. It can not be combined with other discounts and offers and can not be redeemed with Safari cards or Senior Explorer cards. Please visit the provided link to print out the Elephantbar restaurant coupon.
Elephant Bar Printable Coupon for BOGO FREE Happy Hour Appetizer
Direct link: http://www.elephantbarsurvey.com/newsletters/2010-JulyCouponBOGO.htm
The second coupon is $7 off $25 or more food purchase Elephant bar restaurant coupon. It is valid through July 25, 2010. You can not redeem this printable coupon for your gift cards or alcoholic beverages purchase. When dining with the coupon, you still need to pay sales tax and gratuity. You can not use this coupon with other saving offers or on holidays. Other restrictions and exclusions may apply, and see the fine print on the Elephant bar coupon or visit their restaurants for details.
$7 off $25 or more food purchase Elephant bar coupon
Direct link: http://www.elephantbarsurvey.com/newsletters/2010-JuneCoupon.htm
Both of these two printable Elephant Bar coupons are offered at www.elephantbarsurvey.com. To print out these Elephant Bar coupons 2010, visit the links listed above.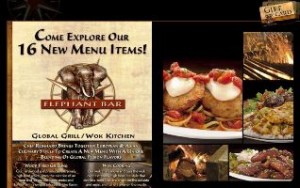 ElephantBar is a casual dining restaurant chain which features with global grill/wok kitchen. ElephantBar restaurants, founded by David Nancarrow and his son Chris Nancarrow in 1980, are dedicated to provide people a relaxing and friendly dining environment and delicious foods with unique flavors by combining European and Asian culinary styles. Both flame-grill and wok cooking methods are used in ElephantBar restaurants so they call themselves global grill/wok kitchen. Now ElephantBar restaurants are mainly operated in California and several other US states including Arizona, Florida, Colorado and several more. Www.elephantbar.com is the web site of ElephantBar restaurants where you can find their menu, restaurant locations, hours of operation, and news. If you want to buy Elephantbar gift cards or find a job at ElephantBar restaurants, you may also want to visit www.elephantbar.com.
If you haven't tried the unique flavored foods at ElephantBar restaurants, you may want to get these elephant bar coupons at the provided link and pay a visit to ElephantBar restaurants to have a dining adventure at affordable price.