Printable Jamba Juice Coupons 2010 offered at www.JambaJuice.com
Here are two coupons for Jamba Juice offered at their official website (the link provided below). JambaJuice is a store specializing in selling smoothies and other drinks.
This first printable coupon is good for saving $1 on original size coffee smoothies purchase made on Thursday. It expires on Sept. 3, 2010. The coffee smoothies is the new item on their menu. If you give it a try, you don't want to miss this promotional coupon offer.
Printable JambaJuice coupon for $1 off coffee smoothies
Link: http://jambajuice.com/eb/cs/jbcs.html?utm_medium=email&utm_source=JambaDBEmailBlast&utm_content=638798591
The second coupon is a buy one get one (BOGO) free coupon. You can use it to get a free drink when you buy one drink at participating locations in 3 areas including New York, California and Chicago. This JambaJuice 2010 summer savings coupon expires on July 13, 2010. Limit one per customer. Other restrictions and exclusion may apply, and see the printable coupon for details.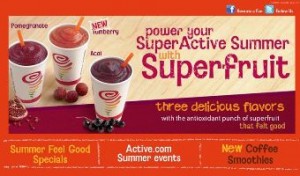 Jamba Juice Printable Coupon 2010 for BOGO free drink
URL: http://jambajuice.com/newyorkbogo/index.html
To find their menu and locations, Jamba Juice nutrition information or other information, go to www.jambajuice.com to visit the JambaJuice website. To get Jamba Juice coupons in the future, you can sign up for their email list at jambajuice.com.