Claim your free smoothie or free fruit drink at orangejulius.com.
Now orangejulius.com is offering free 20 oz Orange Julius Fruit Drink or Premium Fruit Smoothie to people who join their "The OrangeJulius Quench Club". This club is a customer reward program from this store. Members of the OJ Quench club will receive a welcome gift as mentioned above, special orange Julius offers, promotions, coupons and other benefits. To join "The OJ Quench Club" and get your free fruit smoothie, please visit http://orangejulius.com/sec_quenchclub.html.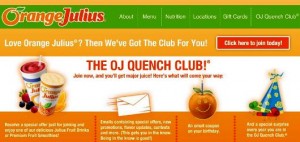 Orange Julius is a store chain selling fruit drink beverage. Believe it or not, this store has an extremely long history in business. In 1926, their first store was launched by Julius Freed in Los Angeles, CA as a small orange juice stand. Since then, it grew quickly. Now their stores also sell smoothies and they are competing directly with other smoothie specialty retailers such as Jamba Juice.