JVC in ear headphone (model number: HA-FXC50-S) is on sale at Newegg now where you can get it at $4.99 after applying a Newegg coupon code.
JVC HA-FXC50-S is an in ear earbud headphone which was originally priced at $39.99. Now the sale price is $19.99. But after applying this $15 off Newegg coupon code: EMCYWZX55, you can get it at $4.99. This is a great bargain for an in ear earbud. The shipping is only $1.99. No tax in most US states except TN, NJ and CA. Silver, red and black colors are available. This discount price and savings coupon code may be a time-limited offer. Please see Newegg for details.

JVC HA-FXC50 In Ear Headphone with Air Cushion Technology, Silver
JVC HA-FXC50-S in ear headphone review:
This JVC headphone delivers superior quality of sound. The "Mircro-HD driver unit" provides excellent sound isolation and guarantees the high definition and dynamic sound transmission right into your ear. It comes with soft rubber cushion and 3-size silicon ear pieces which are features providing comfortable and secure fitting. The connector on this headphone is 3.5mm Gold-plated which is a plug compatible with your iPhone. To help you store this headphone easily and safely, a carry pouch is also included in the package. Overall the JVC headphone HA-FXC50-S reviews are pretty positive. On Newegg, this headphone scored 3 out of 5 eggs from 24 customer reviews.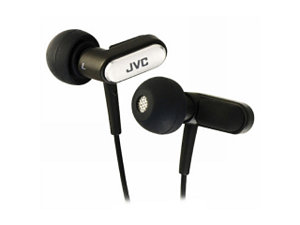 So, if you are shopping for new headphones for your new ipod, iphone, or other portable mp3 players, check out this JVC  headphone deal. You may like it.