Get your free smoothie at Boston Market today (Saturday, Aug. 14, 2010).
This freebie smoothie offer is not a nationwide promotion. It is only available at participating Boston Market locations in following US states including Arizona, Texas, California, New Mexico, Florida, Kansas, Minnesota, Georgia, Missouri, Nebraska, Colorado, North Carolina, and Virginia. If you live in the listed state, today is your lucky day to try Boston Market Smoothie for Free. The free smoothie is available in orange or raspberry flavors. No purchase is necessary. Limit one free smoothie per person. Before you go to the Boston Market restaurant, you should call first to confirm that they do participate in this free smoothie giveaway promotion. To find a Boston Market restaurant in your area, you can use the restaurant locator at http://www.bostonmarket.com/home.
Thanks, Free Smoothies At Boston Market This Saturday by Ben Popken
If you want something funny, continue to read…
Before this giveaway promotion, I did not even know Boston Market sells smoothies. I have tried their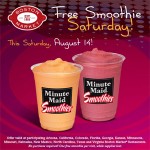 Rotisserie Chicken, Creamed Spinach, Macaroni and Cheese and Mashed Potatoes before. They are tasty and I like them. But I know nothing about their smoothies. Are they as good as those sold in Jamba Juice? FYI, Jamba Juice is a store chain famous for their fresh delicious smoothies. These days there are so many fast food chains starting to sell smoothies. Even Mcdonald's has added a new fruit smoothie on their menu recently. To fight for their territory, Jamba Juice released this hilarious "New Jamba Juice Cheeseburger Chill Smoothie" commercial. That is right. It is a joke. The idea is if Mcdonald's can go into smoothie business, why not Jamba Juice starts to sell Cheeseburger smoothies. Enjoy the parody and have a wonderful day.