Shopping for school supplies? If so, you may like this free school supplies deal offered at www.officemax.com, the Office Max online store. These school supplies deals are specials only for MaxPerks Members. If you are not a member of MaxPerk saving program, you can sign up for a MaxPerks account at the officemax web site. There are many benefits to join OfficeMax MaxPerks saving program. From time to time, Officemax provides savings offers and specials for MaxPerk members only.
The followings are items available at this week's online OfficeMax Maxperks saving specials:
(In) PLACE Heavy-Duty reference binders with EZ comfort D-ring 1" price $6.49
(In) PLACE Heavy Weight manila file folder, 1/3 cut, letter size, 50 per box, $8.99
OfficeMax Filler Paper, college rule $1.99
OfficeMax 2-pocket folders without fasteners, assorted colors, 24 pack $8.99
OfficeMax MaxPerks Free School Supplies July 2010 Specials
These deals limit 6 each and are valid from July 11, 2010 to July 17, 2010. These Maxperks school supplies deals are only available online at www.officemax.com but not at your local Office Max stores. Other terms and conditions may apply, and visit the officemax website for details or visit the provided link listed above.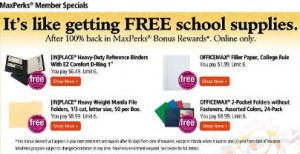 Currently OfficeMax also offer another two savings offers for MaxPerks members including MaxPerks rewards for business: Spend $500 on qualifying purchase and earn $25 MaxPerks rewards, and MaxPerks rewards for teachers: Spend $75 or more and earn $10 MaxPerks Reward.  These may be time-limited offers.
If you want to save money shopping at Office Max local stores or officemax.com, the office max online store, you may consider joining MaxPerks saving program.
If you need folders and papers for your study or work, check out this weeks (July 2010) Office Max MaxPerks school supplies specials at the link provided above.