Freebie offer: Get an Energy drink for free with a KumandGo printable coupon
Kum&Go is offering a printable coupon for a free Rockstar Energy Cola (16 oz. Can). Limit one coupon per customer per visit. This printable KumandGo coupon is released on www.kumandgo.com, the Kum&Go website. It expires on July 13, 2010.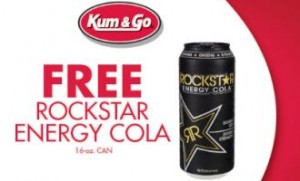 You have to redeem it before the expiration date. This offer is perfect for people who hasn't tried this Energy drink because they can use this opportunity to give it a try for free. If you want to take advantage of this freebie offer, please visit the provided link listed below to print out the coupon. Enjoy!
KumandGo Printable coupon RockStar Energy Cola for FREE
Direct link:
http://www.kumandgo.com/monthly-coupons.cfm