Here is a giveaway offer from http://www.rightathome.com where you can get Pledge Natural Beauty Wipes and Pledge Fabric Sweeper for Pet Hair for FREE.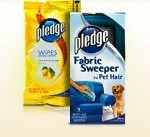 This freebie offer is only good for the first 7,000 respondents. Other terms and conditions apply, and see the offer page on rightathome.com for details. This free Pledge Easy-Summer Gift Pack giveaway offer expires on Aug. 27,2010.
How to get Free Pledge Wipes and Fabric Sweeper.
1. Visit the offer page at Rightathome.
Here is the link:
http://rightathome.com/Offers/Pages/PledgeSummerGiftPack.aspx
2. Read the terms and conditions carefully.
3. Follow the instruction and fill out the form with your name, address, email, birthday, gender and phone number. You have an option to opt in rightathome email list.
I hope this product will make your work of household cleaning easier.