Have you tried Neutrogena Clinical SPF 30, facial lifting wrinkle treatment? If you haven't, you may take advantage of this chance to try it for free.
Here is an up to $40 rebate offered at www.neutrogenaclinical.com for this product. If you buy qualified Neutrogena products from July 11, 2010 to July 18, 2010, you can get all your money back by claiming the following rebate. The maximum money-back offered is $40.
How to claim the Neutrogena facial lifting wrinkle treatment (Clinical SPF 30) rebate?
To claim the rebate, you have to send out the finished rebate form, the original UPC bar code and the dated original receipt before July 31, 2010. The Neutrogena Clinical Starter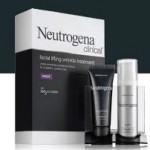 System is excluded from this rebatecsaving offer. Limit one rebate per household. Other terms and conditions may apply, and see the rebate form for detail. You may shop for it at Walmart, Walgreen or other retail store. To print out the rebate form, visit the provided link listed below.
Click here to get the mail-in rebate form
The direct link:
http://www.neutrogenaclinical.com/sites/default/files/NeutrogenaClinical_TryItFree_Rebate.pdf