Here is a deal at buy.com where you can buy Cavalry SATA 2-Bay USB 2.0 Dock with RAID (UPC: 00094922822482 Mfg Part#: EN-CAHDD2B-D) at $19.99 after $20 mail-in rebate. This deal comes with FREE shipping and no tax in most states except CA, MA, NY, TN. This may be a time-limited offer.

Cavalry EN-CAHDD2B-D Two-Bay Hard Drive Cradle – USB – Black
at $19.99 AR
It was originally priced at $53.00. But now the price has been reduced to $39.99. After the $20 mail-in, you can get it at $19.99 and that is ~62% save. Limit 5 per customer.
The $20 rebate for this product is valid from Aug. 4, 2010 to Aug. 10, 2010. You have to submit your rebate before Sept. 9, 2010. Other terms and conditions may apply, and see the $20 rebate form below for details.
Here is the link to the Cavalry USB 2.0 SATA 2-Bay Dock with RAID – EN-CAHDD2B-D mail-in rebate form PDF file:
http://ak.buy.com/buy_assets/retail/pdfs/10Q3/0804-0810at-dk_20Cavalry.pdf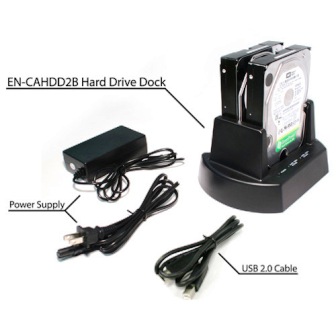 Don't forget to read the customer reviews to learn the pros and cons of this product. You can also read Cavalry EN-CAHDD2B-D reviews at Amazon.com. In the 2 customer reviews, this product scored 3 out of 5 stars on average.
If you need a device to help you consolidate data on your hard drive, you may consider using this Cavalry SATA 2-Bay Dock (EN-CAHDD2B-D) with RAID.